The next annual meeting of the RSC Macrocyclic and Supramolecular Chemistry Interest Group (MASC 2022) will return in person this winter at the University of Nottingham. In addition to an exciting collection of prize, plenary, keynote, and invited talks from leaders in the field, plus oral and poster presentations.
What is MASC 2022 all about?
MASC is an interest group within the Royal Society of Chemistry, run by volunteers to serve the Macrocyclic and Supramolecular Chemistry community, running a number of events (conferences, online seminar series), and administering prizes for outstanding researchers.
The aim of the meeting is to bring together researchers working in the diverse and growing field of modern macrocyclic and supramolecular chemistry, giving them an opportunity to network and present their work. Attendees are have been invited to submit abstracts for either a poster or an oral presentation – entries are now closed and we can look forward to seeing these at the event. A number of prizes will be awarded for the best posters and contributed talks.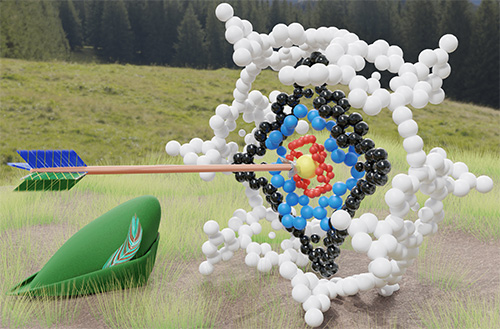 The MASC logo is inspired by the legendary archer, swordsman and tax reform activist Robin Hood. He lived in the local area of Sherwood Forest and battled his arch nemesis the Sheriff of Nottingham.
The logo features an arrow hitting the centre of an archery target which is made up of a central golden bullseye and four concentric macrocycles. It thus pays homage to macrocyclic and host guest chemistry, whilst the arrow hitting the target and threading the macrocycles is reminiscent of a mechanism of rotaxane formation. See more details via the website HERE.

Register now
Registration is now open. In addition to registration for the conference itself, you can also book accommodation in one of two venues and book a place at the conference dinner.
The conference programme will run from 10am on Monday 19th December to 5pm on Tuesday 20th December. Confirmed plenary, keynote, and invited speakers can be found on the programme page.
Asynt is pleased to confirm that we are sponsoring this exciting annual event and look forward to seeing your photos soon!
Don't miss anything
Take a few seconds and register now for the Asynt monthly chemistry newsletter – you'll be amongst the first to receive information on published papers, case studies, independent product evaluations, guest blogs and much more! Click the image below now…