Laborama 2023 will take place on Thursday 16th and Friday 17th March in Hall 3 of Brussels Expo.
In addition to the packed fair, there is a two day programme for visitors, with insightful expert speakers and an exclusive networking event.
Scientific sessions:
Thursday 16th March
10.30am

Prof. Dr. ir. Eveline Peeters – VUB

Non-conventional microbial cell factories as key elements in the transition towards a sustainable biobased industry
11.30am

Dr. Sabine Van Miert – Radius

Micro-algae and insects as raw materials
13.30pm

Prof. Eva Lion – University of Antwerp

RNA-engineered patient-derived therapeutic dendritic cell vaccination explained
14.15pm

Prof. Dr. Ir. Damya Laoui – VIB Lab of dendritic cell biology and cancer immunotherapy/ VUB lab of cellular and molecular immunology

Moving toward a body's own vaccine against cancer
Friday 17th March
10.30am

David Truyens – Toolsquare

Leveraging Human-Machine interactions to optimize laboratory operations
11.00am

Stijn Baert – University of Ghent

The war for talent (and how technology is both a cause and a solution)
11.45am

Wouter Christiaens – Microtechnix

Automation of a visual inspection process with artificial Intelligence where all other approaches failed
13.30pm

Christophe Devos – RIC

High Volume Sampling and Determination of Volatile PFAS Compounds in Air Using Thermal Desorption and GC MS/MS
14.15pm

Dr. Thimo Groffen – UA Wilrijk

Ecological Exposure and Effects of PFAS
LABORAMA offers a platform where professional users and providers can enter into contact with each other in an open and non-obligatory way.  As always, all sectors associated with the laboratory sector are well represented. This makes LABORAMA the must-see exhibition for laboratory technology in Belgium and Luxembourg.
Join Asynt & local distribution partner, Optimus Instruments, at Laborama 2023
We are pleased to confirm that the Asynt team will be joining together with the experts from Optimus Instruments, showing off the latest of our laboratory innovations.  We hope that you'll visit us at Stand D10 where you'll be able to take a closer look at all the latest lab tools and find out how these can improve both your chemistry and your environmental footprint.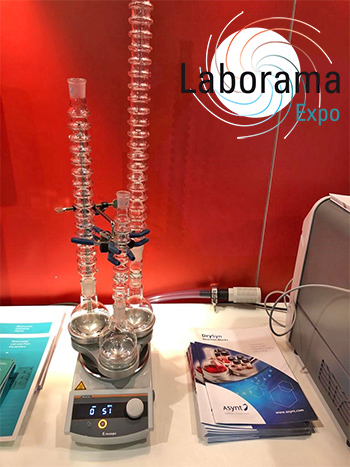 For those in the Benelux area, if you're interested in finding out more about how the experts at Optimus Instruments can help with your Benchtop Synthesis requirements, please visit their website: https://optimus.be/subject/benchtop-synthesis/
Register now
To see all the latest details regarding Laborama 2023, and find out how to register, please click HERE.
Keep up to date with all the latest Asynt news
Before you go, why not register to receive the monthly newsletter from our experts here at Asynt?  It's packed with all the latest news, sneaky looks behind closed doors in laboratories all around the world, special offers, and informative and instructional blogs.  Your details will never be shared with any third party, and we will never spam you.  Register now!