It is almost time for the HPRG 61st Conference: Polymers in Water which is taking place from 23rd – 27th April 2023.
The High Polymer Research Group (HPRG) exists to promote polymer science, broadly defined, through the organisation of annual conferences which are currently held at Pott Shrigley in the Peak District, a picturesque part of Northern England. The HPRG is a non-profit-making charitable organisation that has organised the series of high-level international conferences extending over fifty years.
The HPRG 61st Conference: Polymers in Water has a packed programme with a wide variety of speakers, too comprehensive to list here.  You can find all the details via the organisations website or download a PDF of the programme HERE.
Proudly sponsoring this event
Asynt is genuinely proud to support the HPRG conferences.  Designed to inspire, promote, and encourage the field, the organisers tell us that they:
"…aim to make participation as diverse and as international as possible. Equally we interpret polymer science and engineering in a broad way encompassing biopolymers as well as synthetic polymers and their use in devices, engineering and medicine. In addition to fundamental and applied research the High Polymer Research Group (HPRG) also endeavours to address societal aspects of polymer science."

Professor Dame Athene Donald DBE, FRS.
Come and say hello to us if you're attending?
Dr Kerry Elgie will be attending this informative event so we hope that you'll come and say hi if you see her there.  She'll have a variety of Asynt equipment on hand and will gladly talk through any questions or requirements you may have.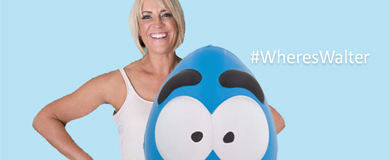 She is also likely to have a small stash of our ever-popular Walter (water) Droplet stress relievers there so keep an eye out for him too!
If you'd like to arrange a meeting with Dr Kerry during the event, or just pick her brains about something right now, please do get in touch.  You can use the LIVE CHAT box at the bottom right of your screen, book an online One2One meeting, email [email protected] or pick up the phone and call +44 (0)1638 781709!

See more events online HERE.