Asynt have a dedicated team to support scientists in the USA & Canada.  In addition, we have a highly esteemed network of distribution partners in your area.
The Asynt chemists work with an incredible team of specialists to bring the latest technology to your lab and provide innovative & environmentally aware solutions that work the way that YOU want them to.
You may find it useful to review some of our
case studies
or read about what scientists like you think of our unique and effective laboratory tools in our
evaluations
area.
Asynt Ltd:  Established 2003.  All products designed & manufactured in the UK.
Key product ranges include: 
Talk with people who understand your needs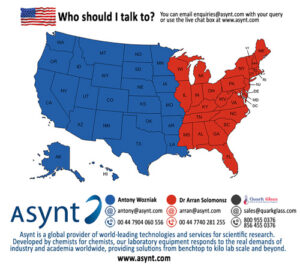 You're welcome to contact our technical support team via email at [email protected], talk with us via the LIVE CHAT box at the bottom right of your screen, or complete the short form at the bottom of this page.
You can find further details about your local Asynt USA distribution partner HERE and Canadian distribution partner HERE.
Dr Arran Solomonsz
East USA, & Canada Technical & Sales Support
Arran achieved his doctorate in chemical nanocatalysis in 2014.  He is always keen to provide customers with the latest in safe, clean and green technologies from Asynt and enjoys the diversity of projects from R&D to pilot and beyond. Arran is also in regular contact with our key suppliers to ensure we can offer our customers the best advice and overall service.
Antony Wozniak
West USA Technical & Sales Support
Antony achieved his master of chemistry in 2013. With his background in product management combined with his experience in business development roles, Antony found his passion in identifying sustainable solutions for his customers, whilst keeping an eye out for new technologies and innovations.