Huber UniChiller Series with Low Profile Housing
The Huber Unichiller range offers air and water cooled models in different performance classes.
When compared to conventional tap water, cooling chillers offer better rates of efficiency, stable pressure and flow rates, and a constant cooling water temperature. Furthermore these units reduce water consumption, making them an environmentally friendly refrigeration solution with low running costs.
Huber Unichillers are ideal for process cooling, back cooling of technical plants or as a centralised cooling water supply in laboratories.
Unichillers are designated to be used unsupervised in continual operation or in environmental temperatures up to 40 °C. They are also available with weather protection and winter operation to allow them to be located outdoors.
The range is split in to three categories: Unichiller Desktop, Unichiller Low Profile, and UniChiller Tower.  This page details the Low Profile Housing series.
Common features of the Huber UniChiller series with Low Profile Housing

Environmentally-friendly, economic cooling solution
High efficiency
Precise temperature control
Powerful circulation pump
Robust stainless construction
WO version for outdoor installation available
Easy to fill and empty
Illuminated filling level indicator
Pilot ONE controller with 5.7″ touchscreen
2 x USB (Host and Device), Ethernet and RS232 interfaces
UK / Europe / Global Delivery
Developed in collaboration with our clients / Bespoke design service
Committed to developing sustainable & practical improvements for scientists worldwide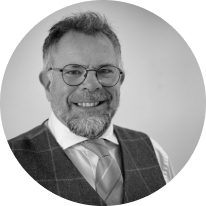 Asynt's unique range of innovative and sustainable products/services are developed by chemists for chemists - to make your lab life easier.
Martyn Fordham, MD
Customers also purchased