The 3rd Northern Postdoctoral Researchers Meeting will be held in the newly built Materials Innovation Factory and Department of Chemistry at the University of Liverpool on Friday 9th June 2017, following on from two previous successful meetings at the University of Manchester in 2015, and the University of Huddersfield in 2016.
This one-day free event provides postdoctoral researchers from northern institutions with the opportunity to showcase their research in a joint interest meeting, and provides a forum to meet and present their science to a general chemistry audience. Alongside talks from postdoctoral researchers, there will be two career perspectives panel discussions, brief presentations on researcher forums and networks, and networking and poster sessions.
The event is also open to final year PhD students, who are invited to submit an abstract for the poster sessions.
Asynt is pleased to be on hand at this wonderful networking opportunity with a wide range of products from our ever-expanding catalogue of laboratory tools so we hope you'll come and say hello!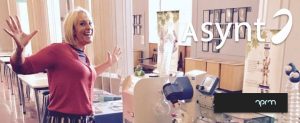 You can see more details about the event on the event website HERE.