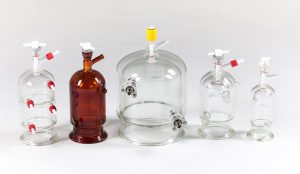 We can offer consultation services and prices for many custom requirements:
Scientific glassware (manufacture and repair)
We can manufacture glass lids, vessels or other items to your specification with designs to suit your needs and your budget.  We are also able to offer an expert repair service for your significant glasswork in need of restoration. We carry out the highest standard of repair work and restore your glassware back to the original specification – unless you want it changed in some way!
PTFE components and apparatus
We can design and manufacture PTFE items to meet your requirements.  This includes custom reactor lids, stirrers, temperature probes, holders, joints and bellows.
Noise and Safety enclosures
We offer custom enclosures for all purposes, designed to suit your laboratory needs.  From basic glove boxes, to specialist noise reduction enclosures and everything else besides.
Engineering solutions including metal fabrication & custom DrySyn heating & cooling blocks
Recent projects include a custom reactor bench, designed and built to meet a specific criteria for our customer.  Solutions include custom heating or cooling blocks all the way up to lifting or support structures, reactors and more.
Support systems
We can offer specialist support systems for your laboratory from basic to the highest tech.  "Making Do" with an inefficient system can be both annoying and dangerous so let us help provide the perfect solution for your laboratory.
DrySyn
We can adapt any of the current DrySyn range of heating and cooling blocks to suit your needs, or design one specifically for you.  We have provided many custom solutions to our customers over the years and it can be a cost efficient solution to problems you encounter.
Speak to one of our chemists for a free, no obligation quotation for all your custom requirements.